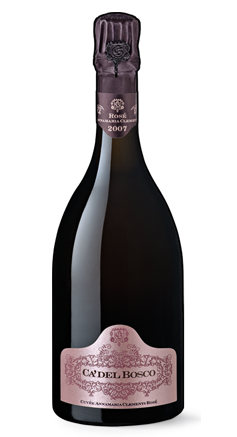 Cuvée Annamaria Clementi Rosé, Franciacorta Riserva
Tasting Notes: Harmony. A whispered sound. A hue hinted at. The perception of a fragrance. Perfection melds with restraint in the balanced shades of a Franciacorta Rosé from 100% Pinot Nero grapes, shaped by hands that knew exactly when to separate the must from the skins during maceration. A moment caught to obtain the peerless deep pink hue before eight years of patient maturation coaxed out an aroma-laden bouquet of sublime finesse with peach, pink grapefruit, baked baguette and raw honey. Supreme balance on the palate, a unique shade of pink and a silky spicy perlage of the tiniest bubbles. Cuvee Annamaria Clementi Rose, a rare example of poise and excellence.
Food Pairings: An extraordinary and rare Rosé for intimate moments. The Pinot Nero structure supports richer dishes like wagyu beef tartare, cold game and smoked fish.
Grapes: 100% Pinot Nero
Origin: Franciacorta district (Lombardy)
Alcohol Level: 13%
Recommended Glass: Wide tulip-shaped sparkling or tulip-shaped white wine glass with a wider bowl
Serving Temperature: 42 - 46° F
Aging Potential: 10-15 years