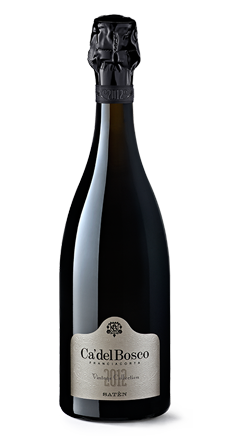 Vintage Collection Satèn, Franciacorta Millesimato
Tasting Notes: Smooth, luxurious, ripe, soft, rounded. Evokes the enchanting sensuality of the woman of one's heart. One of those wines that thrill the senses. Satèn, with the femininity and elegance of silk, is a special interpretation of a Franciacorta: a happy marriage of white grapes only. And a little secret: during tirage, when sugars and yeasts are added to initiate second fermentation in the bottle, is given less sugar. Finally, lengthy refinement enhances gentle elegance in every single bottle.
Food Pairings: Delicious as an aperitif and excellent as a reception wine. It is ideal with white sturgeon Caviar, crab cake, zucchini blossom. Satèn creamy profiles perfectly echoes saffron risotto, clam chowder, soft-medium cheese appetizer.
Grapes: 85% Chardonnay, 15% Pinot Bianco
Origin: Franciacorta district (Lombardy)
Alcohol Level: 12.5%
Recommended Glass: Wide tulip-shaped sparkling or tulip-shaped white wine glass with a wider bowl
Serving Temperature: 42 - 46° F
Aging Potential: 8-10 years