Representing the sixth generation of family ownership and management, Sandro Boscaini heads Masi Agricola today, one of the most important vignerons and winemakers in Valpolicella.
The historic Masi headquarters are in the center of Valpolicella, a lovely hilly area between Lake Garda and Verona.
Differentiating the winery from others is the Boscaini family's careful selection of specific vineyard sites, their use of indigenous grape varietals, and their respect for historic winemaking techniques from the region, which are constantly updated by Masi Technical Group. Coordinated by Raffaele Boscaini, Masi Technical Group is made up of experts from different disciplines — including agronomists, oenologists, and experts in quality control, marketing, and sales – and works with national and international institutions and universities. Some of its most important projects include innovations in the appassimento technique, which has been used to create a modern style of Amarone and has achieved international success.
Appassimento is the traditional method used in the Veneto region to concentrate aromas and flavors in wine. Before vinification, grapes are laid out on bamboo racks in drying lofts over the winter, an ancient technique used for centuries in the region. Passed down through generations in the Boscaini family, this craft has been modified innovatively by the Masi Technical Group and is used today to make fresh and lively wines from dried grapes, notably Amarone. The APPAXXIMENTO® symbol signifies Masi's expertise in appassimento in the 21st century and guarantees the authenticity and quality of Masi wines.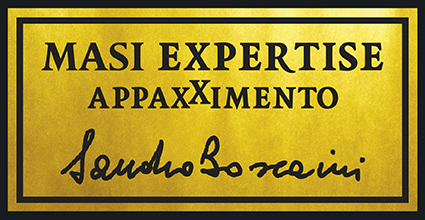 Masi conducts winemaking in adherence to important social, ethical, and environmental values.
Care and respect for the environment are part of the Masi culture and philosophy. One of our guiding principles is showing gratitude for nature's bounty.
We believe we must give back to the planet.