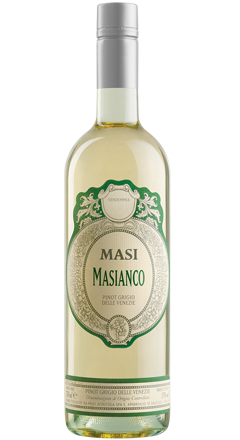 Masianco
Pinot Grigio delle Venezie DOC
Tasting Notes: A modern Italian white wine. Medium-bodied and bright; ideal for modern cuisine. Golden yellow. Citrus fruit, white flowers, and honey on the nose. Soft and refreshing on the palate. Its structure comes from the light Verduzzo grape's appassimento. It has a long dry finish.
Food Pairings: Masianco is an ideal aperitif. Perfect with hors d'oeuvres, fish, and white meats. A white wine of medium body and great personality, ideal for modern cuisine in general.
Grapes: 85% Pinot Grigio, 15% Verduzzo
Origin: "Stra' del Milione" vineyards at Castions di Strada, Friuli. Different soil conditions, mainly calcareous sediments on basalt and clayey ground.
Alcohol Level: 12.96% vol
Serving Temperature: 8-10° C (46-50° F)
Aging Potential: 3 years