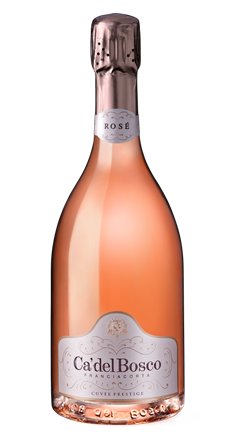 Cuvée Prestige Rosé MV, Franciacorta
Tasting Notes: More than a color, pink is like a suspended mood, a delicate transition from white to red in shades never quite one or the other. Francicorta Rosé gives a magical sensation midpoint between two hues. The Rosé color is obtained after a brief maceration of red Pinot Nero grapes. Just a few hours are needed to get that special tint recalling springtime sunsets: you must seize the moment, an instant earlier it's too pale an instant later it's too dark. And then a delicate blending with Chardonnay and slow, patient maturation. The ideal Franciacorta for momentous occasions. Especially the most romantic.
Food Pairings: An elegant, aromatic aperitif, and an exciting companion on the table: from delicate seafood appetizers like salmon-tuna tartare, to spicy, exotic seasoning of Asian cuisines such as dumplings, spring rolls, fried chicken.
Grapes: 80% Pinot Nero, 20% Chardonnay
Origin: Franciacorta district (Lombardy)
Alcohol Level: 12.0%
Recommended Glass: Wide tulip-shaped sparkling or tulip-shaped white wine glass with a wider bowl
Serving Temperature: 42 - 46° F
Aging Potential: 5-8 years