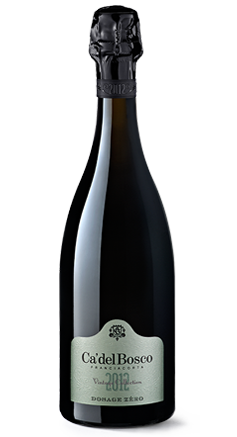 Vintage Collection Dosage Zero, Franciacorta Millesimato
Tasting Notes: Like the harmonious notes of a complex orchestral score, every stage of production has to be perfectly timed. Vintage Collection Dosage Zéro has no added liqueur d'expédition (the dosing syrup added in minimal amounts to the other Franciacortas during disgorgement). A pure, sincere Franciacorta, fruit of the finest expression of its extraordinary terroir and of the man who intuited its character and potential. Destined for the connoisseurs who love this transparent style. Delicate aromas of stone fruit, lemon custard and toasted almond carrying into a vibrant savory finish.
Food Pairings: An excellent wine echoes the purity of shellfish and raw/cured fish such as bottarga. It is ideal with "Siberian" Caviar, West Coast oysters, sushi/sashimi.
Grapes: 65% Chardonnay, 22% Pinot Nero, 13% Pinot Bianco
Origin: Franciacorta district (Lombardy)
Alcohol Level: 12.5%
Recommended Glass: Wide tulip-shaped sparkling or tulip-shaped white wine glass with a wider bowl
Serving Temperature: 42 - 46° F
Aging Potential: 8-10 years